First World War Memorial 1914 - 1919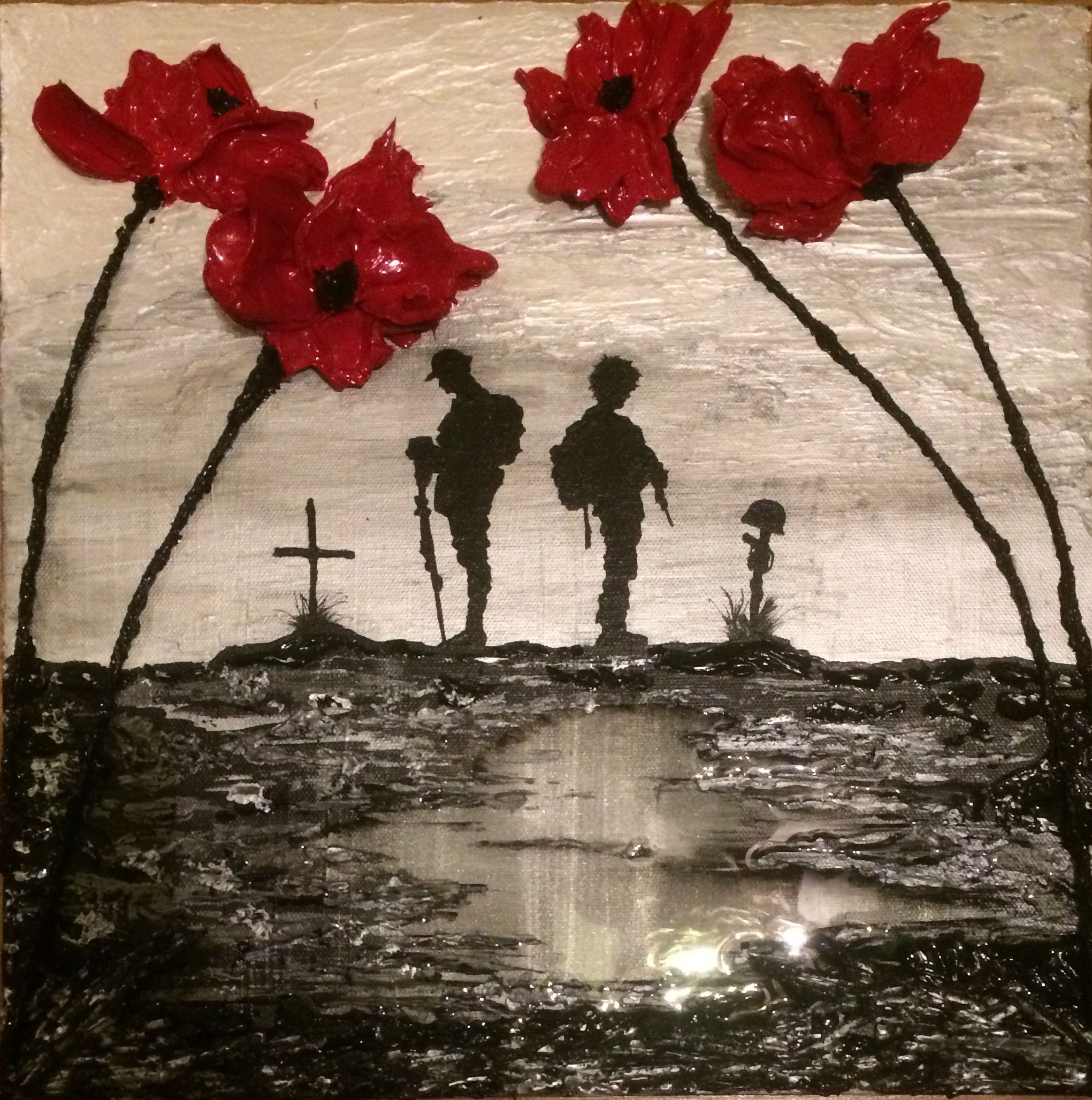 Dedicated to the Memory of Our Brethren
who served King and Country and paid the ultimate sacrifice
William Balgarnie
service no 175925, Gunner Royal field artillery 158th Army Bde, Born Woolmet, Newton Parish - 16th March 1875 - died 30th November 1917 aged 42.
Obituary in dalkeith adveriser 25th april 1918
official intimation has been received by Mrs Balgarnie, fairfield place, that her eldest son, Gunner William Balgarnie has fallen in action, the deceased enlisted in september 1916 into the Royal field artillery, but since going to france about a year age he was transferred to the the Royal Horse artillery, Gunner Balgarnie was well know locally as a member of the postal staff of Dalkeith Post office with which he had been connected for about twenty six years, for a long period he was a member of the Dalkeith Volunteer Pipe Band and for a time occupied the position of Pipe Major, in his younger days he was an ardent cyclist and won quite a number of prices in local cycling races, he was a member of Lodge Dalkeith Kilwinning No. 10 of freemasons and is the eighth member to make the supreme sacrifice.
John Pryde Cunnigham
service no 17060 Private Royal Scots 15th Bn. born in Portobello 1st April 1882 died 1st July 1916 aged 34
Obituary in dalkeith advertiser 8th March 1917
official intimation has just been made that Private John Cunningham , of the Royal Scots, who was previously reported as missing since 1st July 1916, was killed in action on that date, Private Cunningham who was 34 years of age was son of the late Thomas Cunningham, 12 Glenesk crescent, Eskbank, he enlisted shortly after the outbreak of war and was drafted to France in January last year, he was previously employed as a waiter in the Dalkeith Gothenburg.
Image from Lodge Petition Book

Andrew H. Storie
service no 202412 Private Cameronians (Scottish rifles) died 29th November 1916
Image from Lodge Petition Book

David Wilkinson Hope
service no S2160, Private Cameron Highlanders 7th Bn. Born - 1st August 1875 - died 22nd June 1917 aged 42.
Obituary in dalkeith advertiser 13th September 1917
Keen regret is felt in the Newtongrange district at the announcement the Pte David W. Hope, Cameron's, attached machine gun corps, has fallen in action, Mr. Hope started his career at Lothian coal company at Newbattle collieries, as a mining engineer and was with them for five or six years after which he received at position in British Colombia, he subsequently returned to his country and assumed the management of his late fathers brass foundry business in Dalkeith
Walter Hume
service no 355488, Lance Corporal The Kings (Liverpool regiment)1st / 10th Bn. Born Dalkeith - 1st May 1887- died 30th November 1917 aged 30.
Obituary in dalkeith advertiser 3rd January 1918
official intimation has been received on Saturday that corporal Walter Hume of the Liverpool Scottish, had been killed in action on the 30th of November, has occasioned deep regret among his many friends in Dalkeith, the third son of Mr and Mrs James Hume, south street , he enlisted two days after the proclamation of war and participated in much of the arduous fighting in the early days of the campaign, he was eventually wounded and invalided home, but had been back in France for about five months when he met his death , he was extremely popular with his comrades in the army and his commanding officer speaks in high terms of his devotion to duty and of his personal worth , referring to corporal Hume 2nd Lieu B.P. Gallop in a letter to the deceased's parents says - one of the original members of the battalion who came to France in 1914, he has done his duty consistently always since he was been with my platoon, he has been most reliable and had the confidence of both myself and the men under him, before he was killed he put up a most gallant fight without the slight regard to his personal safety, before the war Corporal Hume carried on a hairdressers business in Dalkeith, his eldest brother sergeant Robert Hume has been serving for nearly two years in German east Africa and his his youngest brother, private Aitkin Hume is at present in Bangour hospital suffering from wounds received in action.
Herbert Heron Fraser
service no - second lieutenant Seaforth Highlanders, Born Dalkeith - 13th January 1883 - died 19th November 1917 aged 34.
Obituary in dalkeith advertiser 25th October 1917
The Death is announced as having occurred on 18 inst., from wounds received in action of second lieutenant Herbert Heron Fraser, solicitor, paisley Seaforth highlanders, four son of the late Rev James Fraser Dalkeith. the deceased officer, who was 34 years of age enlisted in June 1916 and obtained his commission a month later, after only three weeks at the front he was seriously injured on 22nd august, but had been making a fair recovery till about a fortnight ago, when he had a relapse and passed away Thursday last, lieutenant Fraser was apprenticed to the law firm of miller Robson and Mcewan, Edinburgh and was afterwards engaged in the office of messrs W. &J.L Officer WS and laterally practiced on his own behalf, then he joined the firm of solicitors in paisley of messrs J. Caldwell &co, his uncle the founder of the business being the late M James Caldwell county clerk of Renfrewshire, Mr Fraser was since its formation in 1896, an official of the Dalkeith and newbattle golf club and for term was captain of the club, reference was made of lieutenant Fraser at the service in buccleuch street U.F. Church on Sabbath last and the death march in Saul was played on the organ
Thomas Curran Davidson
service no 202114, Private Kings own Scottish borderers 1st / 5th Bn. Born - in Gowkshill 23rd May 1888 - died 29th July 1918 aged 29.
Obituary in dalkeith advertiser 12th September 1918
Mrs Davidson 33 high street, has received the sad intimation that her husband , private Thomas Davidson K.O.S.B fell in action on 29th July, the deceased was the youngest son of the late Mr James Davidson spirit merchant 43 high street and succeeded to his fathers business some years ago, he is survived by a widow and three young children
John Steadman
service no 355638, sergeant highland light infantry 12th Bn. died 20th February 1918 aged 37.
Obituary in dalkeith advertiser 28th February 1918
official information has been made to Mrs Steadman 91 high street that her husband sergeant John Steadman H.L.I. who was last week reported to be seriously wounded in the thigh succumbed to his injuries on the 20th inst. in a casualty clearing station in France, the deceased whose death will be lamented by a wide circle of friends in Dalkeith, was an ardent Freemason and a member of Lodge Dalkeith Kilwinning No. 10 in his civil life he was employed for 23 years in the brush factory and was 39 years of age
George Pendreigh
service no 144245, Gunner Royal field artillery 7th Bn. small arms section - died 4th November 1918.
George Pendreich worked in Dalkeith post office, he served in east Africa and was invalided home he died at hope military hospital and was buried in Dalkeith new cemetery
George Thomas Smail Haig
service no, lieutenant Australia Infantry AIF 30th B.n Born in Dalkeith 15th November 1889 - died 6th June 1918 aged 28
Obituary in dalkeith advertiser 22nd August 1918
the third son of the late Mr John Haig fish merchant and Mrs Haig 42 high street Dalkeith, Lieut Haig served his apprenticeship as a plumber with Mr Alex Hart south street and was subscently employed as a plumber and engineer to Lothian Coal company at newtongrange, about 5 years ago he emigrated to Sydney N.S.W. and soon after the outbreak of the war he responded to the call of the homeland, joining the Australian expeditionary force as a private, a young man of high spirit, the profession of arms appealed to his nature and he rose rapidly through all non-comissioned ranks till he attained the position of seargeant - major, he was afterwardsinduced to take his commission and had risen to the rank of first lieutenant with high prospects of still further advancement, the deceased officer was a keen sportsman and before leaving Dalkeith was a promiment member of newbattle cricket club, while he also played regurally for some of the local football clubs
Robert Thomson
service no 951527, Gunner Royal field Artillery 94th Bde. Born in st Boswells 19th March 1885 died 4th november 1917 aged 32.
Robert Thomson was a Lawyer in Edinburgh and organist at Dalkeith parish church
Second World War Memorial 1939 - 1945
RAMSAY HAMILTON, Sergeant (Flight Engineer)
Service Number 1568370 Died 25/03/1945 Aged 32
408 (R.C.A.F.) Sqdn
Royal Air Force Volunteer Reserve
Son of William Braid Hamilton and Jessie Ramsay Hamilton, of Dalkeith, Midlothian; husband of Helen Hamilton, of Dalkeith.
IVIC MAYNE MUIRHEAD Captain
Service Number 151354 Died 19/03/1944 Aged 30
64 (The Queen's Own Royal Glasgow Yeomanry)
Anti-Tank Regt. Royal Artillery
Son of William Muirhead, S.S.C., and Jeanie Main Muirhead, of Dalkeith, Midlothian. B.L
JAMES ELDER, Gunner
Service Number 1826506 , Died 19/04/1943 Aged 34
2nd Lt. A.A. Regt. Royal Artillery
Son of James and Catherine Elder; husband of Elizabeth Elder (nee Calder), of Dalkeith, Midlothian.
JAMES WILSON, Corporal
Service Number 2872587 Died 15/12/1941 Aged 36
2nd Bn. Royal Scots
Son of Alexander and Helen Calder Wilson.
JOHN MARK MORGAN, Fourth Engineer Officer
M.V. Empire Statesman (Leith) Died 5/12/40 Aged 23
Alexander Kerr, Engine Room Artificer 5th Class
Service number P/MX 60185 Died 24/05/1941
HMS Hood Royal Navy