It was during the eighteenth century that lodges began to acquire possessions. In the1700's very few met regularly at their own premises, most meetings took place in the back room of an inn and used the furniture available. For some lodges this continued to be the case well into the nineteenth century, the location often changing from public house to a rented hall owned by some other society Nevertheless, by 1800 a considerable number of lodges rented permanent premises which were furnished exclusively for lodge use, or, if the hall was hired out too the convivial religious groups or dancing and fencing masters, it contained movable Masonic furniture. From the early eighteenth century until the end of the Napoleonic wars several distinct categories of Masonic lodge can be described. Among these was the' new private society' whose membership of urbane gentlemen, entrepreneurs becoming gentlemen and artisans becoming entrepreneurs came together to discuss enlightened religion, politics and business as well as to eat, drink and be merry. Although freemasonry was distinguishable from the many other urban clubs and societies by its serious character, the culture of the punchbowl was no less entrenched among its practitioners. Many large punch bowls bearing Masonic emblems survive from the eighteenth century and food and drink were consumed within the lodge room following any ritual business.
While the chairs used by Dalkeith Lodge, like their accompanying pedestals, are plain and rudimentary in construction, the Master of the Lodge had the distinction of sitting beneath a canopy the hexagonal Dalkeith canopy (1764) resembles a pulpit sounding board and at some time has supported a tester or curtain. At the apex of the pointed roof is a representation of the dove sent by Noah with a branch in its beak, an emblem of good fortune and probably a later addition. The words DALKEITH KILWINNING LODGE in gold paint are also later as are the spherical lamps. Behind, the wall is hollowed out as a niche and either side are plaster pilasters surmounted by urns. The ensemble is the neo-classical and was probably modelled upon a church pulpit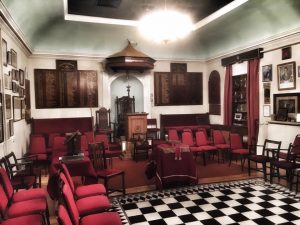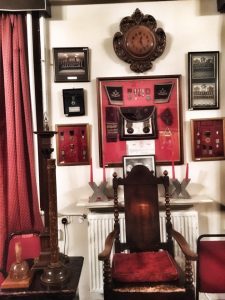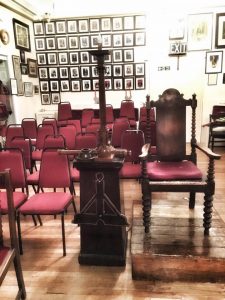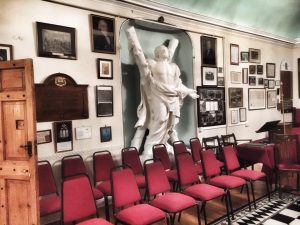 The Old High School Close.
Dalkeith sits smilin' on the rig. Sweet slopin' banks to ilka brig:
A toun like it, say clean an' trig. There's hardly ony:
Ye'll nae dout see them thats as big. But nae sae bonny.